Summer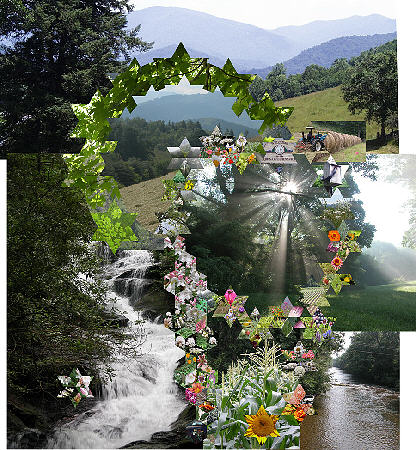 There are 270 pictures in summer, including a snake, Japanese beetle, toad, swing (what would summer be without a swing? There are actually two swings in the quilt) Roaring Fork Falls and the Toe River. Summer depicts our luscious green, the farmers cutting and baling their hay, and the fabulous and colorful bounty of our many gardens and farms. A tobacco field can also be found in this section. For many years, most people thought tobacco was the primary cash crop for the farmers of this county, and indeed it played an important role. But recent research revealed that galax (a picture of which can be found in summer, history and spring) was an even bigger cash crop for the county ($10 million vs. $2.2 million for tobacco the year of the study).
Now farmers are turning to new crops and organic farming is becoming a large force in the county, which is to the benefit of everyone as it has reduced the use of toxic chemicals in the county, thereby protecting our air, water and farmers, not to mention our food!
Recent research has revealed that organically grown food contains more nutrients and with the new trend to embrace locally grown food, we are all healthier, and our food supply is more secure.
I had fun shooting the summer pictures, particularly the hay cutting and baling. I spent more than two days following William Fender as he cut hay on his father Grady's field on Lickskillet. The whole process is wonderfully aromatic, and you can feel the heat of the field rise up after the tractor passes. The mountain views in the distance coupled with all the sensations of the cutting, fluffing and baling helped me understand how the land can lay claim to you.